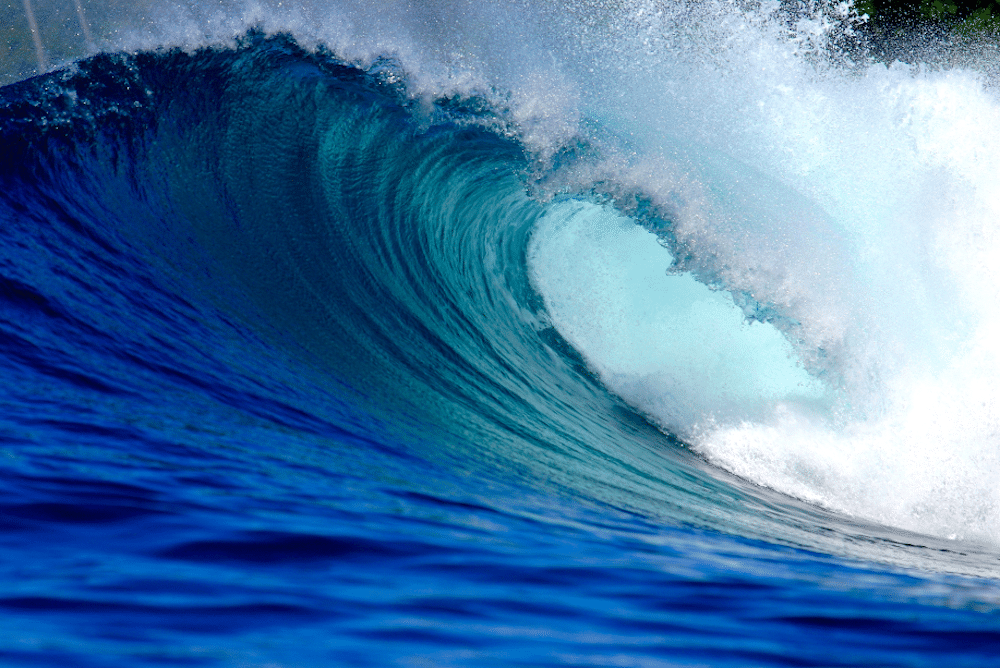 Unlocking the power of Microsoft Purview
Aimed at compliance, risk and IT professionals within regulated industries, this webinar drew on practical examples and client stories to demonstrate how to unlock the power of Microsoft Purview to reduce risk in your organisation.
Nivasha Sanilal (Cloud Essentials' Compliance and Risk Officer) was joined by Johann van Schalkwyk (Cloud Essentials' Microsoft 365 technical lead) to explore our five steps for a successful information compliance programme.
Step 1: Assess and benchmark
We discuss the importance of gauging your current position and how Microsoft Purview can help to provide an accurate view of your current landscape, with an easy-to-understand dashboard that measures, in real time, your compliance score against the Microsoft 365 data protection baseline.
Step 2: Prioritise and plan
Using practical examples, we show you how Microsoft Purview can be instrumental in the creation of a risk based compliance road map and be used to prioritise improvement and security actions.
Step 3: Assemble and engage
We know that people and process are as important as the tech, when focusing on data compliance, and that fostering a compliance culture is crucial. We demonstrate how Microsoft Purview is an effective way to deploy controls and monitor activity, and discuss how to engage stakeholders in the process.
4. Drive and deliver
The webinar provides an overview of the features available in Microsoft Purview and we discuss their benefits as well as tips for successful implementation. We cover:
Information Protection
Information Governance
Insider Risk Management
Data Loss Protection
5. Monitor and report
We discussed the importance of this final stage to check the adequacy and effectiveness of the compliance controls that are in place and demonstrated the dashboards and alert features available in Microsoft Purview available to continually monitor and improve your compliance position.
During the webinar, we asked participants about the challenges they are facing getting started with Microsoft Purview: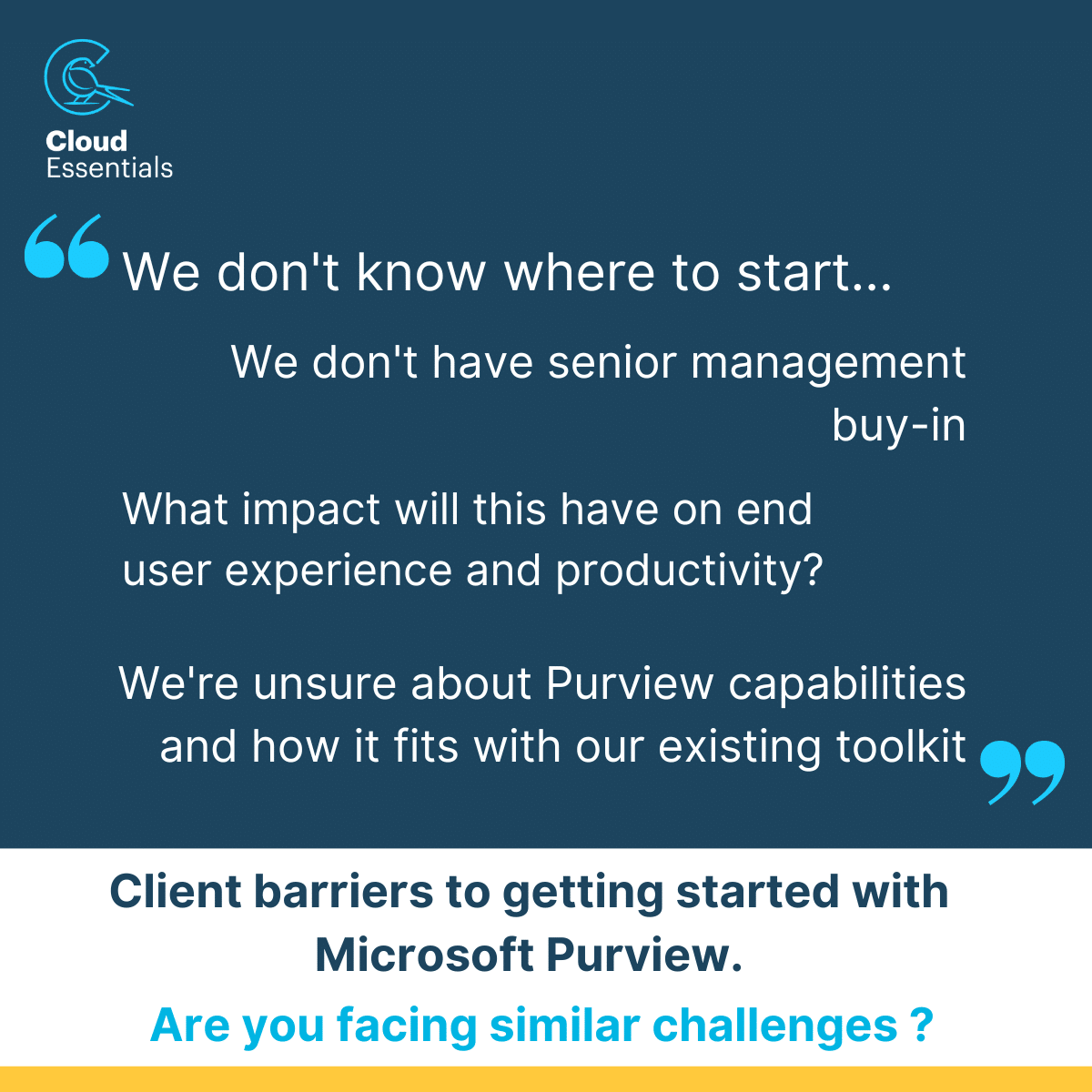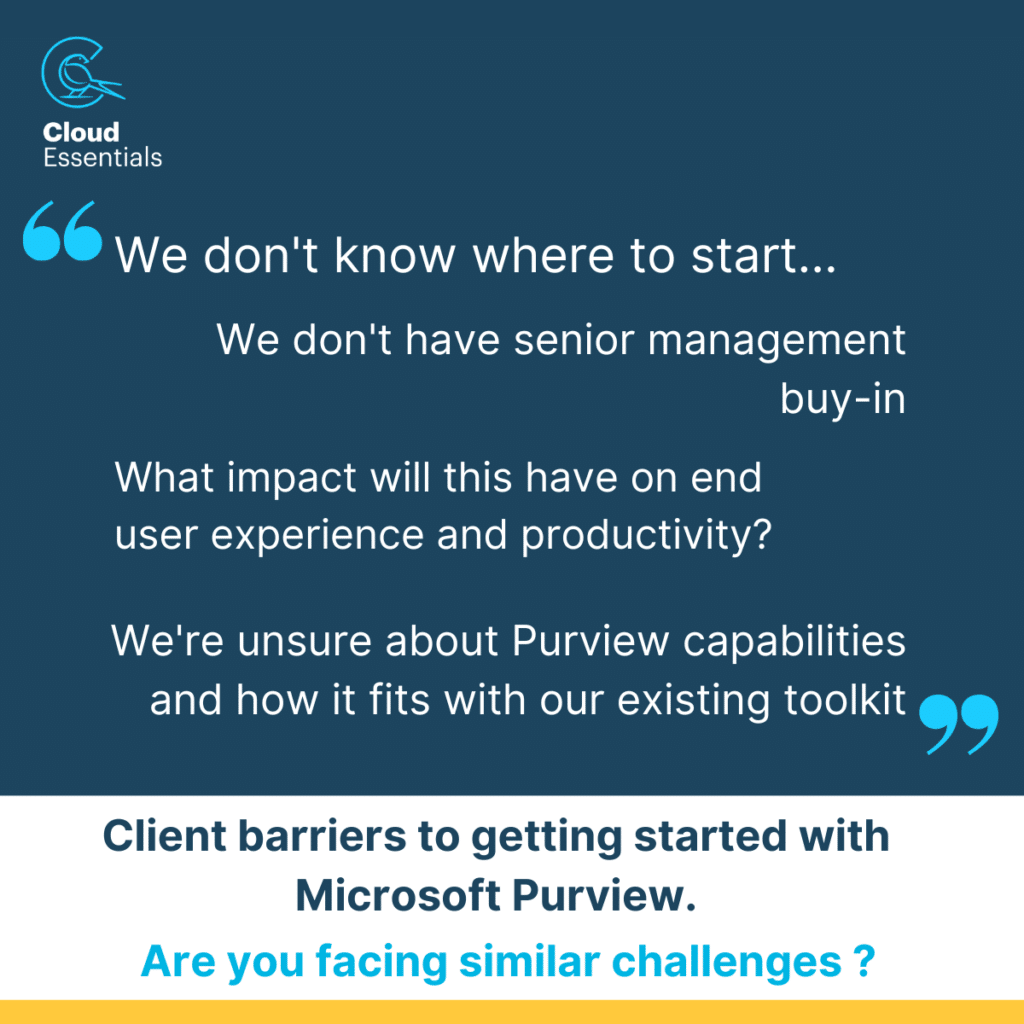 Our experts are available to help. Our Microsoft 365 Compliance Assessment is the ideal starting point, and you might be eligible for Microsoft funding to assist with getting started. Contact us for more information.